Winter Swim Lesson Registration opens on Tuesday, November 28th at 8:00am.
An evaluation is required to register for all levels with the exception of our beginner levels: Skips, Pikes, Polliwog 1 and Intro to Swimming.
Click on the flyer below to view all the classes being offered this winter: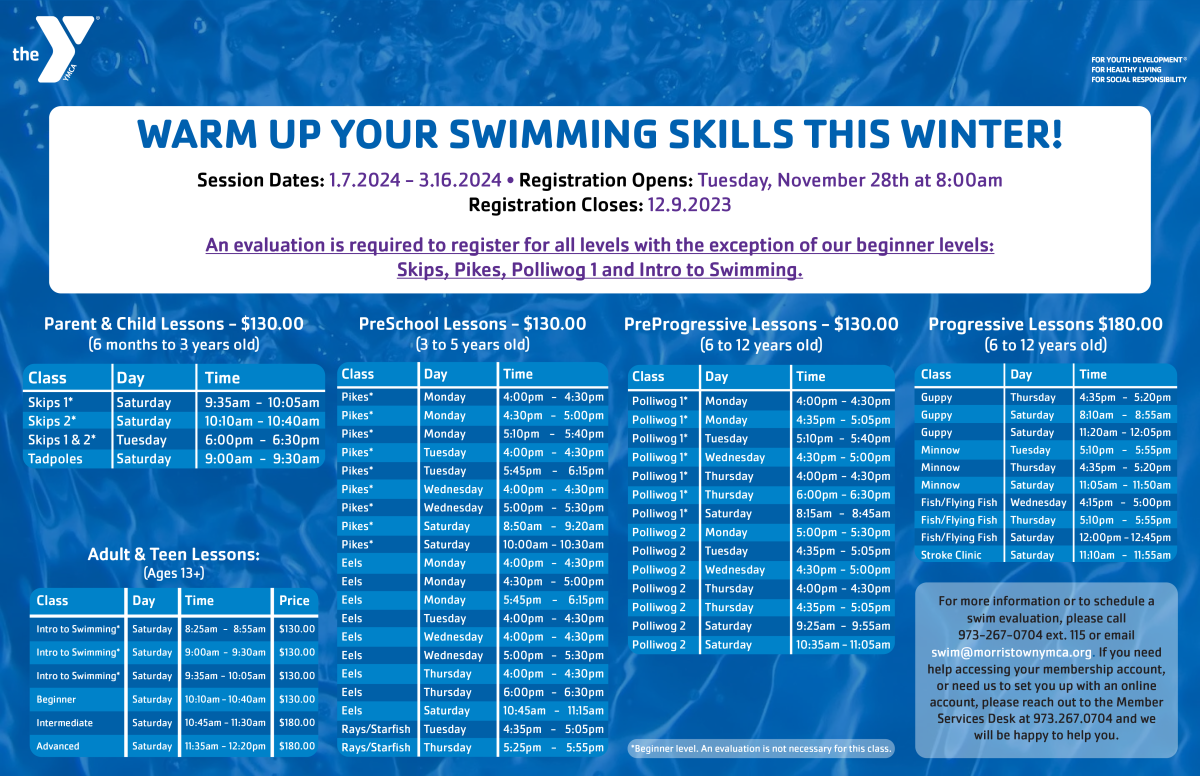 For more information about swim lessons or to schedule a swim evaluation, please call 973-267-0704 ext. 115 or email swim@morristownymca.org. If you need help accessing your membership account, or need us to set you up with an online account, please reach out to the Member Services Desk at 973-267-0704 and we will be happy to help you.
For those that are new to our program we have the Swim Program Registration membership type option for registration. This to ONLY be used to REGISTER for a YOUTH SWIM PROGRAM for a PARTICIPANT who does not have an active membership AT THIS TIME (a paid membership will be REQUIRED if the participant gets into the program.) It can ONLY be used to register for a SWIM PROGRAM. This Swim registration will become inactive prior to the first day of the program. A PAID MEMBERSHIP IS REQUIRED to be in the class.
Click the Buttons Below to be Directed to Your Registration Page!
Skips I, Skips II, & Tadpoles Pikes, Eels & Rays/Starfish Polliwog I & Polliwog II Guppy, Minnow, Fish/Flying Fish, & Stroke Clinic Adult & Teen Swim Lessons
Tuesday, November 28, 2023 - 8:00am