Join the Greater Morristown YMCA's Swim Team Program for Our 2022-2023 Season!
About Our Team:
The Dolphin Swim Team is the ideal environment in which your child can have fun while swimming competitively. This healthy, lifetime sport promotes team spirit as well as individual success. Our Head Coach, Josh Wing, has over 20 years of experience when it comes to training competitive swimmers of all ages. Josh, as well as, the entire coaching staff, are committed to the YMCA's mission of developing well-rounded individuals who enjoy competition and good sportsmanship. The Dolphin Swim Team concentrates on technique, strength and endurance throughout regularly attended practice sessions. Training is enhanced by the use of practice equipment and supervised dryland training at the appropriate age level. As the season progresses, additional emphasis is placed on improving times while participating in Dual and Individual Meets. The Dolphins have two dual meet teams: a boys team and a girls team to give swimmers more opportunities to race and improve. Our team is committed to building lifelong friendships both in and out of the water. We hold special events throughout the season so that swimmers and families get to spend time together outside the pool. These outings help our team to develop long lasting friendships and a sense of team spirit.
2022 TRYOUT DATE
Sunday, August 21st
07:30am Check-In • 8:00am Warm-Up • 8:30am Start
Deadline for August Tryout is Wednesday, August 17th
Click Here to Fill Out the Online Tryout Form
FOR MORE INFORMATION PLEASE CLICK AND DOWNLOAD THE TRIFOLD BELOW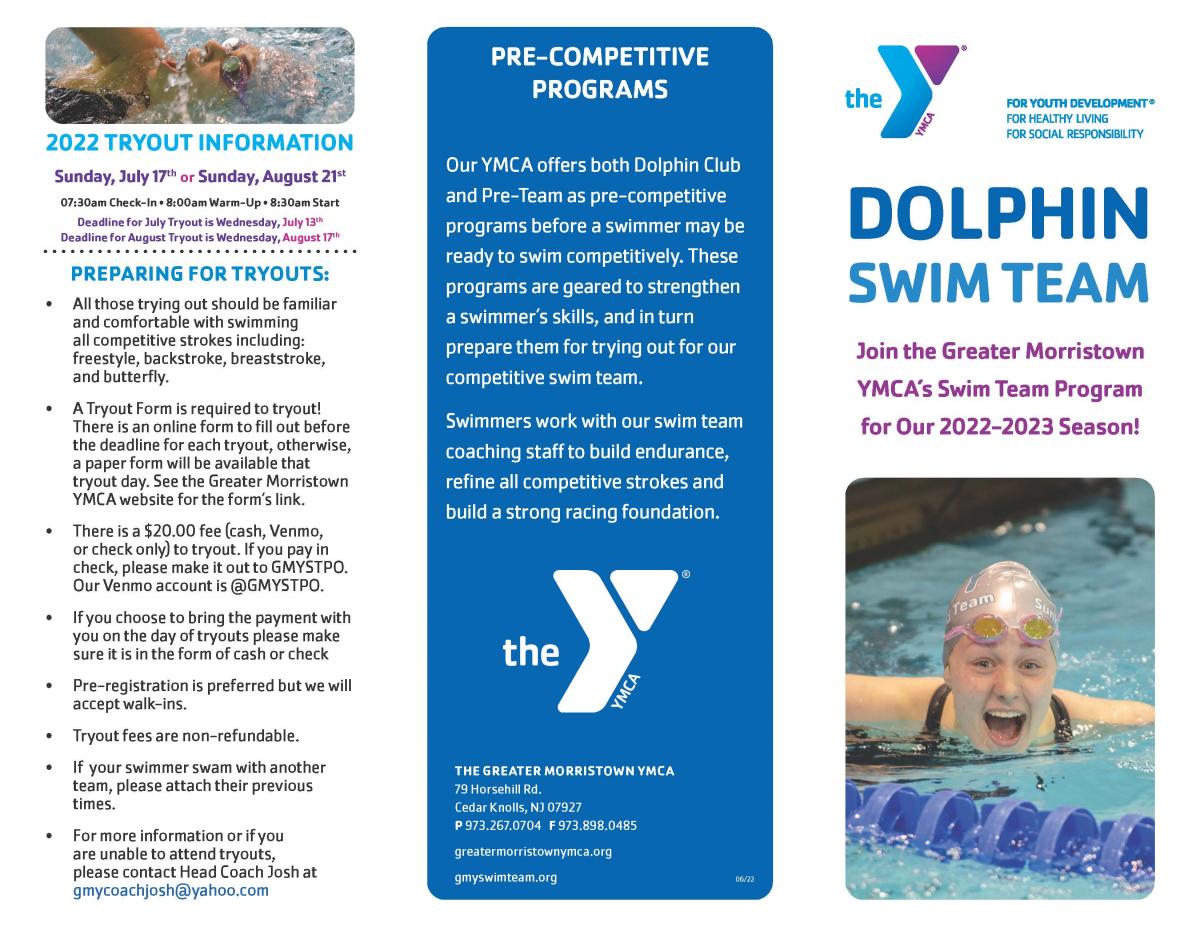 For any questions please feel free to reach out to our Aquatics Department at: 973.267.0704 or swim@morristownymca.org.